Welcome to the
NFT Tax Guide!
Get access to the ultimate crypto tax guide written by tax professionals.

25% of the proceeds (up to $2.5 Million) will go towards a grant for tax preparation fees for artists.

And a free subscription to ZenLedger for the 2021 tax year!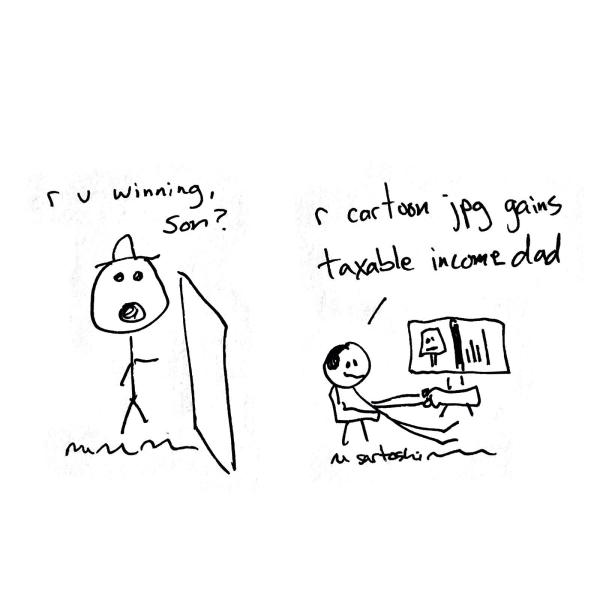 If the world of cryptocurrency is a platter of juicy, tender, piping hot chicken wings… then taxes are the sad-looking celery sticks sitting off to the side. Nobody wants them there, but they're part of the package.
Maybe you saw this mouthwatering mountain of meat and dove right in. You sampled some altcoins, tried a few NFTs, and took a big bite of DeFi. Finally, you came up for air, face slathered in sauce, and only then did you glance over and happen to notice the celery had been sitting there all along. In fact, now it's covering half the plate.
Oh, and if you don't eat all your celery, you might go to jail.
Welcome to the NFT Tax Guide! Fair warning, we're going to cover a lot of information. So grab a beverage, put your feet up, and get ready to learn everything you always (or never?) wanted to know about crypto taxes.
The NFT Tax Guide is only tax guidance—not tax or financial advice. Please consult your tax advisor when it comes to your tax returns and transaction history.
Get access to the NFT Tax Guide.
Each NFT minted here grants access to the tax guide and comes with one (1) free subscription to ZenLedger for the 2021 tax year. Mint one for you and a few more for your friends!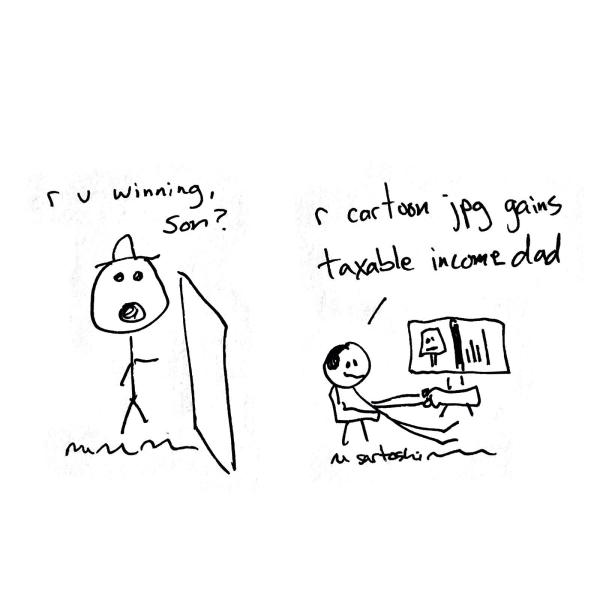 To get started, connect your wallet…
Jacob Martin and the NFT Tax Guide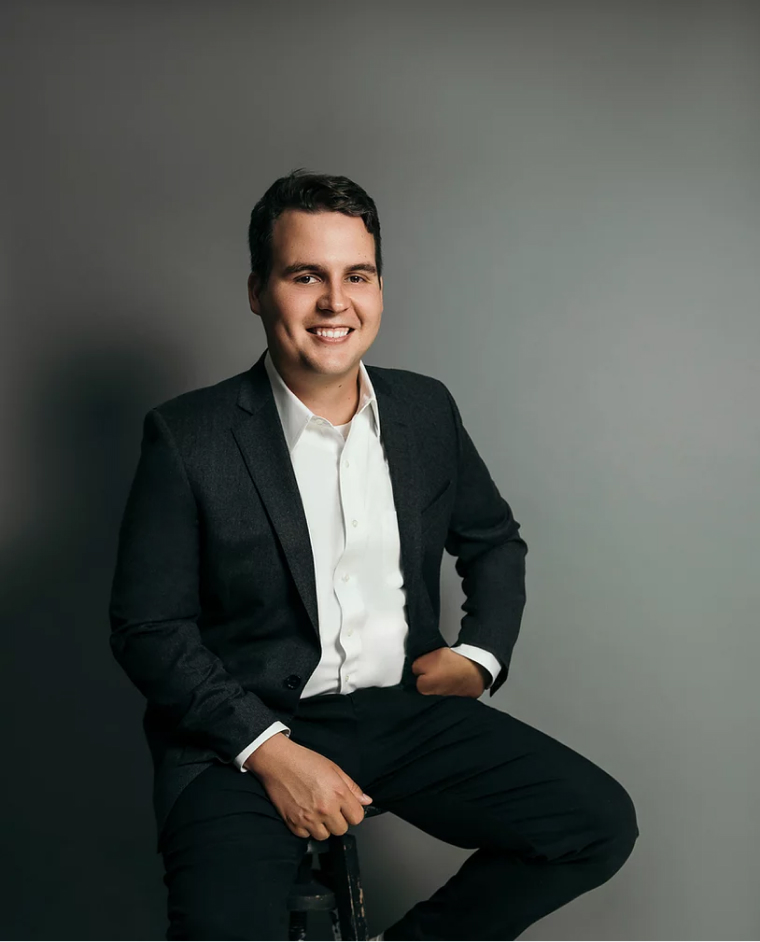 My name is Jacob Martin and I'm more widely known as @thenftattorney. Early on in 2021, I recognized that the 2021 tax season would probably disrupt the NFT market as a whole. Additionally, after helping a client in July and August solve an incredibly complex tax situation, I realized there needed to be something for everyone.
So I decided to team up with some incredible tax attorneys and CPAs to help bring the NFT community a comprehensive guide on taxes and access to tax software.
For the NFT Tax Guide, I partnered with ZenLedger tax software, Charles Kolstad, Esq, Andrew Gordan, Esq. and Alex Roytenberg, CPA. Last, but certainly not least, each token features art by the renowned @sartoshi_nft!
"So, what's in the guide"
NFTs

We'll start with NFTs For Consumers, go over Play-To-Earn Gaming, and finish with NFT For Creators. Some topics include trading NFT for NFT, burning tokens, pooling funds with frens, collaborating with artists, and much more.

DeFi

From borrowing to lending, liquidity pools, and yield farms, we'll discuss governance tokens, liquidations, gas fees, and sweet sweet rewards.

DAOs

We can hardly have a DeFi tax guide without including the other pillar of decentralization: Decentralized Autonomous Organizations (DAOs), which have been rising in popularity throughout 2021. In this chapter, we'll discuss DAO tokens, airdrops, K-1's, and starting a DAO.

Filing Tips

Whether we're talking about ordinary income, capital gains, or non-taxable transactions, we'll provide you with some compliance tips for how to not end up in Jail. We'll also tell you about tax havens abroad.
ZenLedger's Crypto Tax Software
ZenLedger aggregates user transaction information across thousands of exchanges, wallets, and blockchains, into one simple software, making it easy to calculate tax liability and generate reporting documents. The Executive plan is ZenLedger's premiere subscription that includes unlimited transactions, DeFi, Staking, NFTs, and all the other bells and whistles.
"Our cryptocurrency tax software easily tracks your trades and shows your profits, so you never overpay on your crypto taxes again. Native support for most exchanges, blockchains, and wallets, plus DeFi & NFT transactions."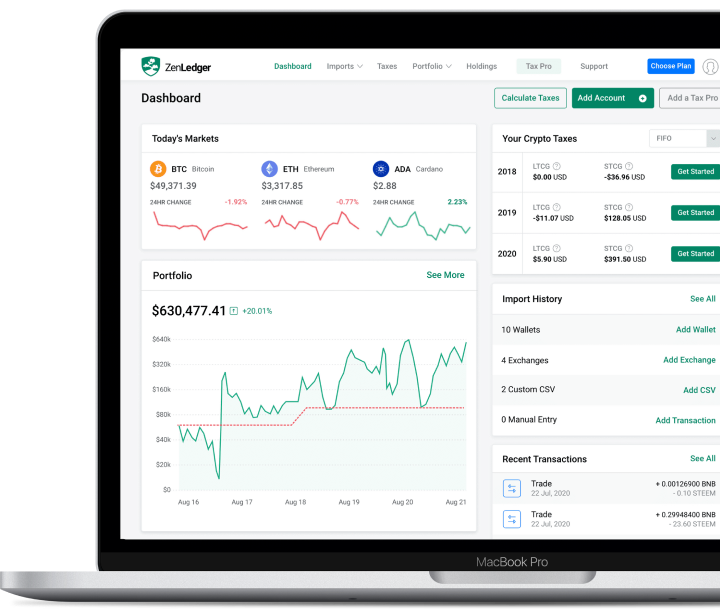 Our Team
Jacob Martin, Esq.The NFT Attorney

Jacob Martin is the Managing Attorney of JTM Tech Law and has become one of the go-to attorneys in the NFT space. He has worked with a variety of artists, collectors, auction houses, DAOs and founders while also facilitating the formation of Ready Player DAO and being a General Partner at Two Punks Capital.

Charles KolstadtWithers LLP

Charles Kolstad is a Partner at Withers Worldwide and recognized as a "key lawyer" by The Legal 500 US in 2021 and 2020 in the area of international tax. Charles focuses on international tax, corporate, and partnership matters while also maintaining an emphasis on crypto assets and blockchain technology, and tax issues related to initial coin offerings (ICOs).

Andrew GordonGordon Law LLP

Andrew Gordon is a cryptocurrency tax lawyer, CPA, and the founder of Gordon Law Group. He's been practicing crypto tax law since 2014, and his firm has prepared hundreds of crypto tax returns for clients including casual investors, NFT artists and collectors, crypto whales, and one of the OG developers of Ethereum.

Hannah LorenzEditor

Hannah Lorenz is the Marketing Manager of Gordon Law Group, a leading tax, business, and cryptocurrency law firm. She's been a copywriter for nearly 10 years, covering everything from alternative music to luxury travel. She enjoys making complex topics (like crypto tax) accessible to everyone.